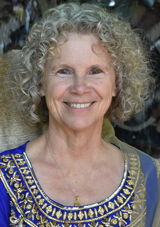 Susan Harper is a Continuum teacher, a heart-soul-counselor, creative instigator, and inspired teacher of perceptual and movement inquiry.

Susan has the ability through personal demonstration of sounds, breaths and movement to transmit a primal and spiritual fluidity that inspires participation resulting in embodied innovative discoveries. Her students call her a moving storyteller, a dream weaver, one who opens portals into the vast space of creativity, which is available in all human beings.

Susan joined Emilie Conrad, founder, in 1975 to study, and eventually became a partner in developing the organization and work of Continuum. Emilie and Susan developed teacher training programs, and
co-founded Continuum Teacher Organization in 2000. She continues to mentor many of the authorized Continuum teachers.

In 1977, Susan and Michael Stearns founded Continuum Montage as a record label to produce Michael's music and host her seminars. Their marriage and creative partnership informed her creative process.
In 1992, as a part of the 18th Street Arts Complex, Susan designed Continuum Studio, providing a creative gathering place for community.
In the early 90's Susan expanded the reach of Continuum to Japan, Finland, Germany, Italy, and Switzerland. She leads seminars at Esalen Institute.
In the early seventies, Susan spent months deep in the Canadian wilds, where, removed from human contact, she opened to wilderness. The imagination inherent in Nature has inspired her teaching. She has led dozens of river trips throughout the western U.S, Alaska, and Mexico. She has lead Quest trips in Thailand, Tibet, Bali, and Borneo — honoring the gifts of each culture, people, and place in resonant exchange.

Susan was profoundly shaped by her early years in Africa where she was born. The land, the dancing, and drumming of the Shona people in Zimbabwe shaped her heart and bones. Raised in Kentucky, the Washington D.C. area, and California, she was fortunate to have a family environment of affection and curiosity, where she grew her love for the art of inquiry.
Susan Harper offers Continuum Montage events, which include Continuum Workshops, Body of Relating Trainings, Body of Perception Training, and Living Dreams seminars.
In these events we elaborate somatic awareness, creative expression, emotional communication, soulful movement, and creative thinking.
Susan creates contexts for those who love to inquire, who dare to listen at the edge and in the depths—to be in the frontier conversation—who are aware of the adventure of courting the unknown.
Susan Harper has trained and taught with
Emilie Conrad - Continuum Movement
Hubert Godard - Perceptual/Movement
Chris Price - Gestalt Awareness Practice
Wendy Palmer - Intuitive Body
Gary David - Epistemics
Reggie Ray.- Meditating With the Body
Caroline Conger - Dreamwork and Healing
Peter Levine - Somatic Experiencing
Lama Drimed - Dzogchen
She is also inspired by Michael Meade, David Whyte, Mary Oliver, John O'Donohue, David Richo, Robert Sardello, Stephen Harrod Buhner, Malidoma Some, Mark Nepo, and David Spangler
Susan teaches a wide range of skills, and inquiry in the fields of movement, emotions, shock and trauma resolution, dreams, perception, and relationship. These experiential contexts are relevant for professional therapists, somatic educators, bodyworkers, and anyone interested in the creative art of living.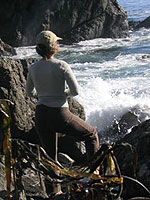 Susan in Esalen, Big Sur