PORTAL OF DREAMING INTENSIVE
SEPT 27-OCT 2, 2012- RIGMOR HOUSE CHAPEL HILL, NC
PORTAL OF DREAMING
Our deepest nature, like nature itself, is ripe with imagination, and interconnected with all that is. We explore the ways we are each dreaming and being dreamed by the world, in the dream we call our waking life. Our dreams show us what wants healing, or shows us a new bud bursting to be free.
MOVING DREAMS
We bring dreams to life by moving their qualities and characters. When images come alive inside the wisdom of our bodies, an understanding is birthed that affects the original dream, the body, and the dreamer.
We explore dreams to loosen the grip of identity; freeing us to embrace our fluid nature, which is creatively responsive to its context.
WHAT WILL WE DO?
This intensive includes demos of dream tracking, solo, partner, and group explorations. Using a somatic approach we track our dreams or life experiences for those who don't remember dreams. We enter the details, tend the nuances of image, sensation, movement, meaning, we arrive at an insight, an existential message so resonant and impactful that its unfolding meaning reshapes the direction our life.
We open meditative inquiry awareness practices and explore the elemental affinity
between our bodies, and the living breathing planetary body. In deep long movement dives, we deepen our capacity for fluid grounded embodiment, and creative expression.
For our dreamtime allnighter we will adorn the room with shamanic textiles to stimulate the imaginal, psyche processes, and to support our journeys for healing and envisioning.

SUSAN HARPER has been teaching and contributing to Continuum since 1975.
She is the developer of Em'oceans and Sensations Trainings andwith Hubert Godard co-developed Portals of Perceptions. This work is also inspired by
Michael Meade, Reggie Ray, David Whyte, John O'Donohue and
Chris Price -Gestalt Awareness Practice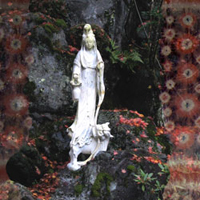 Sept. 27-Oct. 2, 2012
Susan Harper
Portal of Dreaming
Chapel Hill, NC
PDF FLYER
Contact - Rebecca Lawson
919 932-7548
Rlawsonh@aol.com