CONTINUUM DREAMTIME DEPTHS RETREAT
SUSAN HARPER with DIVO MÜLLER
AUGUST 6-12, 2012 - ZIST INSTITUTE SOUTHERN GERMANY
This Depths Retreat is devoted to practices of moving, sounding, breathing, and perceiving the discoveries of the listening body. Enter Silence, dive deeply, engage the process, expect metamorphosis. In this retreat, we allow time and space, to open our hearts into the fruitful dark womb of the Earth, and the vastness of the generative imaginative cosmos.
WHAT WE WILL DO?
In deep long movement dives, we breathe, slow down, sound, listen, feel, rest into spacious silence, and deepen our capacity for fluid grounded embodiment of our creative envisioning. Awareness of organismic intelligence guides our movement.
We explore the intelligent dynamics of the elements—water, air, fire, earth, and space—in our bodies; deepening our inherent connection to the wild breathing planetary body.
For our vision quest allnighter we will adorn the room with shamanic textiles to stimulate the imaginal, psyche processes, and to support our dreamtime journeys for healing and envisioning. We co-create ceremony as we join those—visible and invisible—who tend the indigenous soul and beauty of this world.
SUSAN HARPER has been teaching and contributing to Continuum since 1975.
She is the developer of Em'oceans and Sensations Trainings andwith Hubert Godard co-developed Portals of Perceptions. This work is also inspired by
Michael Meade, Reggie Ray, David Whyte, John O'Donohue and
Chris Price -Gestalt Awareness Practice
DIVO MÜLLER founder of Bodybliss, long term Continuum teacher and co-creator
of Fascial Fitness will offer morning classes and share new findings
on the fascial web during this retreat.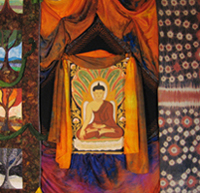 August 6-12, 2012
Susan Harper
Continuum Dreamtime Depths
Zist institute, Southern Germany
PDF FLYER
Contact - Divo Müller
49-89-2867-5590
info@bodybliss.de